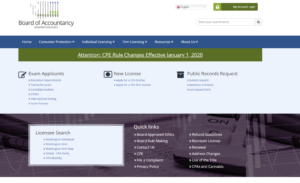 License Renewal Date
4/30 triennially
CPE Reporting Period
1/1 to 12/31 triennially
General Requirement
120 hours
Ethics Requirement
4 hours in board approved ethics and regulations CPE. Ethics that is not board approved may be counted toward the technical and total hour requirement. Click here for a list of approved courses.
Credit Limitations
Non-technical CPE: Credit is limited to 24 CPE hours per 3-year period. Non-technical subjects are:  Communication skills; Interpersonal management skills; Leadership and personal development skills; Client and public relations; Practice development; Motivational and behavioral courses; and Speed reading and memory building.
Published materials:Authorship/Publication Requirement – after the first 30 hours, any additional credit will be determined by the Board.
Instruction: Credit for instruction is limited to 72 hours.
Nano learning: Credit for nano learning is limited to 12 hours.
Fields of Study:This jurisdiction has a rule(s) placing limitations on certain subject areas or requiring a certain number of credits within a certain subject area or group of subject areas. Confirmation with the Board of the impact of the changes included in the new Fields of Study document, which went into effect September 1, 2016, is included in this analysis.
Credit Calculations
Self study:Self-study is allowed full credit if interactive; half credit otherwise.
Partial credit: Half credits are allowed after the first hour, except for Nano Learning which is accepted in 0.2 increments prior to the first full hour.
College/University:For both undergraduate and graduate courses one (1) quarter credit equals ten (10) CPE credit hours and one (1) semester credit equals 15 CPE credit hours.
Other State Policies
CPE Reciprocity: A non-resident licensee may meet Washington's CPE requirements by meeting the CPE requirements of the licensee's principal place of business. If the principal place of business has no CPE requirements, then the licensee must meet Washington's CPE requirements.
Washington accepts CPE credits for programs offered by National Registry sponsors.
Service on the Board's QAR Committee, QAR Team Captain or Reviewer, participation on other Board-approved quality or peer review committees may count for CPE credit.
Contact Info 
PO Box 9131
Olympia WA 98507
Phone: (360) 753-2586
Fax: 360-664-9190
Email:customerservice@acb.wa.gov
Website: https://acb.wa.gov/