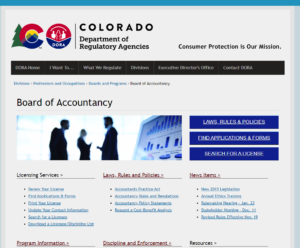 Renewal Date: November 30th of odd years. 
Reporting Period: Biennially from 1/1 of even years to 12/31 of odd years. 
Required Hours: 80 hours per reporting period. 
Ethics Required: Yes, 4 hours of CPE must be in Ethics of which no more than 2 hours may be in Colorado Rules and Regulations. 
Subject Breakdown: The following subjects are acceptable for CPE courses as defined by NASBA's CPE Fields of Study:  Accounting, Accounting (Governmental), Auditing, Auditing (Governmental), Administrative Practice, Social Environment of Business, Regulatory Ethics, Business Law, Business Management and Organization, Finance, Management Advisory Services, Marketing, Behavioral Ethics, Communications, Personnel/HR, Personal Development, Computer Science, Economics, Mathematics, Production, Specialized Knowledge and Application, and Taxes. 
Credit Limits: Personal Development hours are limited to 20%. Published Materials and Instructed CPE is limited to 50% of the required CPE in a reporting period.
Contact Info:
Colorado State Board of Accountancy
1560 Broadway, Suite 1350
Denver, Colorado 80202
Phone: 303-894-7800
Fax: 303-894-2310
Web address: https://www.colorado.gov/pacific/dora/accountancy