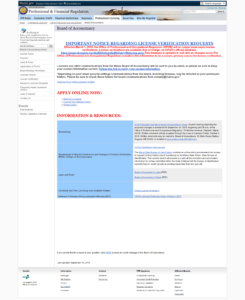 License Renewal Date
9/30 annually
CPE Reporting Period
10/1 to 9/30 annually
General Requirement
40 hours
Ethics Requirement
4 hours every 3 years
Other Subject Area Requirements
None
Credit Limitations
Instruction: Instruction credits are limited to 50% of total hours.
Non-Technical Subjects: Courses in the following subject areas are limited to 50% of total hours: communication arts; mathematics, statistics, probability and quantitative applications in business; economics; business, securities and administrative law; human resources policies; and computer software applications.
Published Materials: Authorship credits are limited to 50% of total hours.
Fields of Study: This jurisdiction has a rule(s) placing limitations on certain subject areas or requiring a certain number of credits within a certain subject area or group of subject areas. Confirmation with the Board of the impact of the changes included in the new Fields of Study document, which went into effect September 1, 2016, is included in this analysis.
Credit Calculation
Instruction: Credit is equal to 3x presentation. No credit for preparation. Repeat instruction of the same course is only accepted if material is substantially changed.
Partial Credit: Half credits are accepted after first hour.
Other State Policies
Carryover: A maximum of 20 credit hours may be carried from one reporting period to the subsequent reporting period. Carried hours cannot be used to meet the ethics requirement.
Maine accepts CPE credits for programs offered by National Registry sponsors.
Contact Info
Dept. of Professional and Financial Regulation
Office of Professional and Occupational Regulation
35 State House Station
Augusta, ME 04333
Phone: 207-624-8603
Fax: 207-624-8636
Email: catherine.m.carroll@maine.gov
Website: https://www.maine.gov/pfr/professionallicensing/professions/accountants/index.html