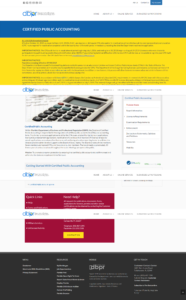 License Renewal Date
12/31 biennially
CPE Reporting Period
7/1 to 6/30 biennially
General Requirement
80 hours
Ethics Requirement
4 hours in Florida Board approved ethics that include a review of Chapters 455 and 473, Florida Statutes, and the related administrative rules. If the four hours of ethics is completed in two modules, then all four hours must be completed with the same provider.
Other Subject Area Requirements
24 hours in Governmental CPE if conducting audits controlled by the Government Auditing Standards, 2007 Revision, or the Rules of the Auditor General, Chapter 10.550.
8 hours in Accounting-related and/or Auditing-related subjects.
Credit Limitations
Accounting or Mathematics: Not accepted if elementary accounting or basic mathematics.
Behavioral Subjects: 20 hours maximum.
Meetings: Not accepted if business meetings, social functions, or committee service.
Published Materials: Not accepted.
Self-Study: Sponsors of self-study programs in accounting, auditing, and technical business subjects must be approved by the National Association of State Boards of Accountancy's Quality Assurance Service (QAS).
Credit Calculation
Instruction: Credit is equal to two times presentation for the first presentation; one times presentation for the second presentation; and no credit for the third and subsequent presentations. Repeat instruction of material that is substantially changed is considered a first presentation.
Partial Credit: Half credits are accepted.
University/College: One semester hour equals 15 CPE hours; one quarter hour equals 10 CPE hours; non credit courses – each classroom hour will equal one qualifying hour.
Fields of Study: This jurisdiction has a rule(s) placing limitations on certain subject areas or requiring a certain number of credits within a certain subject area or group of subject areas. Confirmation with the Board of the impact of the changes included in the new Fields of Study document, which went into effect September 1, 2016, is included in this analysis.
Other State Policies
Grace Period: Florida certified public accountants who do not meet the requirements by June 30th will be granted an automatic extension until September 15th provided the Florida certified public accountant completes an additional 8 hours in Accounting and Auditing subjects. An automatic extension will be granted until December 31st provided the Florida certified public accountant completes an additional 16 hours in Accounting and Auditing subjects.
Contact Info: Florida Board of Accountancy
1940 North Monroe Street
Tallahassee, FL  32399
Phone: 352-333-2505
Fax: 352-333-2508
Web address: http://www.myfloridalicense.com/DBPR/certified-public-accounting/