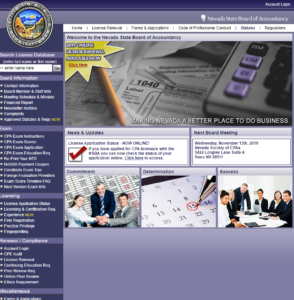 License Renewal Date
12/31 annually
CPE Reporting Period
1/1 to 12/31 over a two year rolling period
General Requirement
80 hours, with a minimum of 20 per year
Ethics Requirement
4 hours
Other Subject Area Requirements
8 hours in Accounting and Auditing in each year in which the practitioner planned, directed, or performed a substantial portion of work or reported on an audit, review, full disclosure compilation or attestation service of a non-governmental agency
Credit Limitations
Technical Reviewer: The Board will allow this type of CPE to be claimed with the understanding that it is time spent reviewing CPE program materials.
Credit Calculation
Instruction: Credit is equal to presentation plus preparation. Preparation is limited to two times presentation. Repeat instruction within twelve months is only accepted if material is substantially changed and approved by the board.
Partial Credit: Credit for continuing education may be earned in increments of less than one credit.
University/College: One semester hour equals 15 CPE hours; One quarter hour equals 10 CPE hours; Non Credit Courses – each classroom hour will equal one qualifying hour.
Other State Policies
Exemption: If an applicant for the renewal of a permit to engage in the practice of public accounting is permitted, certified or licensed to engage in the practice of public accounting in another state and resides in that state, the applicant must demonstrate compliance with the continuing education requirements of that state. If the state in which the applicant resides does not have continuing education requirements, the applicant must comply with the requirements of Nevada.
Nevada accepts CPE credits for programs offered by National Registry sponsors.
Contact Info
1325 Airmotive Way
Suite 220
Reno, NV 89502
Phone: 775-786-0231
Fax: 775-786-0234
Email: cpa@nvaccountancy.com
Website: http://www.nvaccountancy.com/