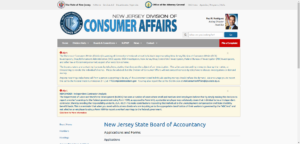 License Renewal Date
12/31 triennially
CPE Reporting Period
1/1 to 12/31 triennially, reporting 2014, 2017, 2020, 2023, etc.
General Requirement
120 hours, with a minimum 20 per year
Ethics Requirement
4 hours in New Jersey law and ethics. Providers offering ethics courses must register with the Board and/or have their content approved by the Board.
Other Subject Area Requirements
72 hours in Technical Subjects: Accounting; Auditing, including but not limited to, review, compilation and attest standards; Business Law; Computer Science; Economics; Finance; Management Advisory Services; Mathematics, Statistics, etc.; SEC Practice; Taxation; and Professional Ethics.  Any of these subjects may be in specialized industries.
24 hours in Auditing, Review and Compilation if engaged in the practice of public accountancy or involved in the attest function.
Credit Limitations
Instruction: 60 hours maximum. An instructor or discussion leader employed as an instructor or discussion leader on a full-time basis cannot obtain continuing professional education credit for instruction.
Marketing: Courses related to the development of a licensee's practice or the marketing of services are not accepted.
Published Materials: 30 hours maximum for authorship.
Reviewer: 60 hours maximum for technical review or peer review program committee participation.
Self-Study: Sponsors must be registered with the National Association of State Boards of Accountancy (NASBA). Providers offering correspondence courses must also be registered with NASBA.
University/College: Events shall only receive credit for subject areas that are categorized as technical.
Fields of Study: This jurisdiction has a rule(s) placing limitations on certain subject areas or requiring a certain number of credits within a certain subject area or group of subject areas. Confirmation with the Board of the impact of the changes included in the new Fields of Study document, which went into effect September 1, 2016, is included in this analysis.
Credit Calculation
Instruction: Credit is equal to presentation plus preparation. Preparation is limited to two times presentation. Repeat instruction within the same year is not accepted. Repeat instruction after one year may receive presentation time if material is substantially changed.
Partial Credit: Half credits are accepted after first hour.
University/College: One semester hour equals 15 CPE hours; One quarter hour equals 10 CPE hours; Non Credit Courses – each classroom hour will equal one qualifying hour.
Other State Policies
Providers: Program sponsors must register with the Board. The following are exempt from registering with the Board:

Accredited universities or colleges;
National and state professional organizations;
Federal and state government agencies; and
Sponsors registered with the National Association of State Boards of Accountancy (NASBA)
Contact Info
124 Halsey Street, 6th Floor
PO Box 45000
Newark, NJ 07101
Phone: 973-504-6380
Fax: 973-648-2855
Email: accountancy@dca.lps.state.nj.us
Website: https://www.njconsumeraffairs.gov/acc/Pages/applications.aspx