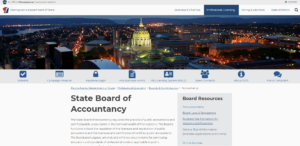 License Renewal Date
December 31 on odd numbered years
CPE Reporting Period
1/1 to 12/31 biennially ending on odd numbered years
General Requirement
80 hours
20 hours per year
Ethics Requirement
Four (4) hours
Other Subject Area Requirements
Twenty-four (24) hours in Accounting & Auditing, if participating in attest activitites
Credit Limitations
Instruction: The maximum credit allowed instruction is 40 credits. No repetitions for instructor credits unless the material has substantially changed. Entry level accounting courses do not count for instructors.
Published Materials: Credit for published books/articles is limited to 20 credits per instance on a self-declaration basis. The maximum allowed for all Publications combined is 40 credits.
Published Materials and Self Study: The maximum credit allowed from self-study and published material combined is 40 credits.
Self-Study: The maximum credit allowed for self-study is 40 credits. If the delivery method is non-interactive, only 1/2 of the total credit is granted.
Credit Calculation
Instruction: Credit is equal to 3 CPE per 50 minutes of presentation. Preparation time is limited to 2 credits.
Partial credit: Credit is allowed in quarter hour increments once the first full hour of credit is earned.
University/College Credit: Each semester credit hour earned equals 15 credit hours of CPE; Each quarter credit hour earned equals 10 credit hours of CPE. Non-credit courses: One credit hour of CPE will be given for each 50 minutes of in-class participation.
Other State Policies
Providers of CPE must be approved by one of the following for credit to qualify:
The Pennsylvania State Board of Accountancy.
The National Registry of CPE sponsors.
The accountancy regulatory body of a state that permits the practice of public accounting under the principles of substantial equivalency.
A college or university accredited by a Nationally recognized accrediting agency recognized by the United States Department of Education.
Contact Info
2601 North Third St.
Harrisburg, PA 17110
Phone: 1-717-783-1404
Fax: 717-705-5540
Email: st-accountancy@pa.gov
Website: https://www.dos.pa.gov/ProfessionalLicensing/BoardsCommissions/Accountancy/Pages/default.aspx#.VOTI5i6QfT8