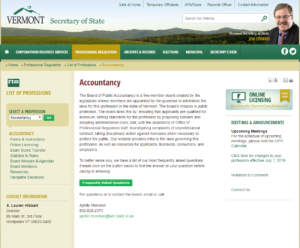 License Renewal Date
7/31 on odd years
CPE Reporting Period
8/1 to 7/31 biennially on odd years
General Requirement
80 hours
Ethics Requirement
4 hours
Other Subject Area Requirements
8 hours in Accounting and Auditing
Credit Limitations
Instruction: 50% maximum.
Published Materials: 25% maximum for authorship.
Credit Calculation
Instruction: Credit is equal to presentation plus preparation. Preparation is limited to two times presentation. Repeat instruction is only accepted if material is substantially changed.
Partial Credit: Only whole hours are accepted.
University/College: One semester hour equals 15 CPE hours; One quarter hour equals 10 CPE hours.
Other State Policies
Vermont accepts CPE credits for programs offered by National Registry sponsors.
Carryover: 10 hours maximum may be carried forward into the next reporting period. Carryover hours cannot be used to satisfy the accounting and auditing or ethics requirements.
Contact Info 
Vermont Secretary of State, Office of Professional Regulation
89 Main Street, 3rd Floor
Montpelier, VT 05620-3402
Phone: 802-828-2373
Fax: 802-828-2465
Email: aprille.morrison@sec.state.vt.us
Website: https://www.sec.state.vt.us/professional-regulation/list-of-professions/accountancy.aspx