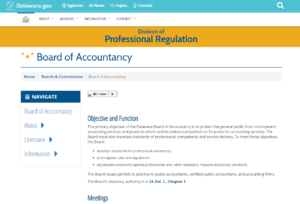 Renewal Date: 6/30 of odd years 
Reporting Period: 7/1 to 6/30 biennially ending on odd-numbered years. 
Required Hours: 80 hours 
Ethics Required: Yes. Four (4) hours in a Delaware specific ethics course approved by the Board as set forth in 11.8. 
Subject Breakdown: 8 hours in accounting and auditing. 8 hours in tax. 
Credit Limits: The maximum credit for instructors shall not exceed 50% of the total requirement. The maximum credit allowed for self-study is 30% of total hours required.  The amount of credit will be determined by the Board. The Board will not approve any program of learning that does not offer sufficient evidence that the work has actually been accomplished. Credit for Authored Published Materials is limited to 20 hours. 
Contact Info:
Delaware State Board of Accountancy
Cannon Building, Suite 203
861 Silver Lake Boulevard
Dover, Delaware 19904
USA
Phone: 302-677-7312
Fax: 302-739-2711
Web address: https://dpr.delaware.gov/boards/accountancy/