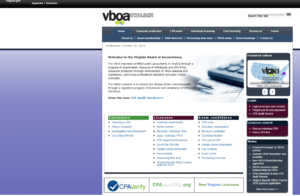 License Renewal Date
06/30 annually
CPE Reporting Period
1/1 to 12/31 over a three year rolling period
General Requirement
120 hours, with a minimum of 20 per year
Ethics Requirement
2 hours of Virginia specific ethics per year. Providers offering ethics courses must register with the Board and/or have their content approved by the Board.
Other Subject Area Requirements
8 hours in Attest or Compilation Services per year for any licensee who releases or authorizes the release of reports on attest services, compilation services, or financial statement preparation services provided for persons or entities located in Virginia.
Credit Limitations
Exams: 60 hours maximum in a three year reporting period. The VBOA will award the CPE hours for the year in which the exam was passed and the certification was received. View all accepted certifications/exams/licensures.
Instruction: 30 hours maximum in a three year reporting period.
Credit Calculation
Instruction: Credit is equal to presentation plus preparation. Repeat instruction of the same course is only accepted if the material is substantially changed.
Partial Credit: Partial credits are accepted in any amount.
University/College: One semester hour equals 15 CPE hours; One quarter hour equals 10 CPE hours.
Other State Policies
Virginia accepts CPE credits for programs offered by National Registry sponsors.
Exemption: A non-resident licensee may meet Virginia's CPE requirements by meeting the CPE requirements of his principal place of business. The principal place of business must have a CPE requirement including an ethics requirement to qualify.
Grace Period: January 31 is the deadline for obtaining CPE for the previous calendar year.
Contact Info 
9960 Mayland Drive, Suite 402
Henrico, VA 23233
Phone: 804-367-8505
Fax: 804-527-4409
Email: boa@boa.virginia.gov
Website: http://www.boa.virginia.gov/